back
Meet the motos–Jordi Garreta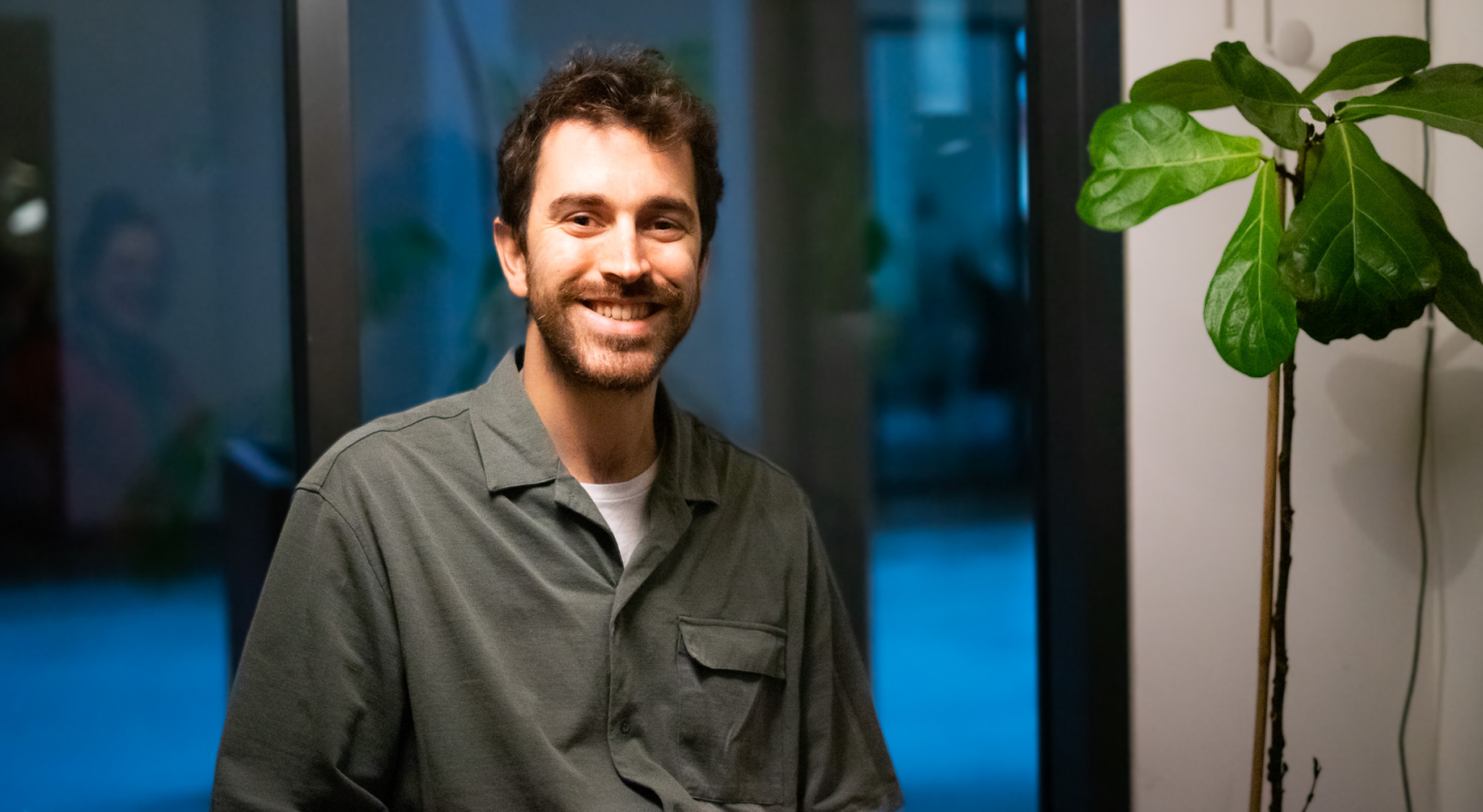 Introducing our "Meet the Motos" series, where we showcase the brilliant minds behind the think moto team. Join us as we take a deep dive into the daily work routine, various departments, exciting projects, and even take a sneak peek into the future. In today's feature, we're thrilled to introduce Jordi Garreta and explore the fascinating world of creative coding.
👋 Hi Jordi, good to have you here. Can you please introduce yourself?
Hi, my name is Jordi, I'm from Barcelona and I am a creative developer. I have lived in Berlin for almost three years and have worked at think moto for the same amount of time.
How did you become a creative coder?

I obtained my bachelor's degree in Image and Sound Engineering in Barcelona, and then I moved to Milan to pursue a master's degree in Interaction Design. I wanted to apply what I had learned in a more artistic environment and became a creative developer by combining my bachelor's and master's education.
What kind of companies have you worked for in the past?
After my master's degree, I started my career working in a fablab in Milan where I worked on creative projects using machines for 3D printing and Arduino. I later moved back to Barcelona and worked for various startups, mainly focusing on data or interactive installations. I then moved to Berlin.
Sounds good. — How did you find your way to think moto?
Berlin has always been on my mind, and my brother lived here for several years which gave me the opportunity to visit often. It's also a city with a lot of growth in the creative development field. After my partner found a job here and me being stuck at home during the Covid pandemic, I thought it was time for a change and started looking for job opportunities. That's how I found my position at think moto.
Can you describe a typical day at think moto?
So usually we start with dailies, which are meetings with your project team. On Mondays, we have a general meeting with the entire team of think moto and twice a week, we have one with the developer team.
Currently, we also have two project-specific meetings to track progress. After the meetings, I usually start coding and working on projects. If I or another developer have questions, we have quick meetings to find solutions.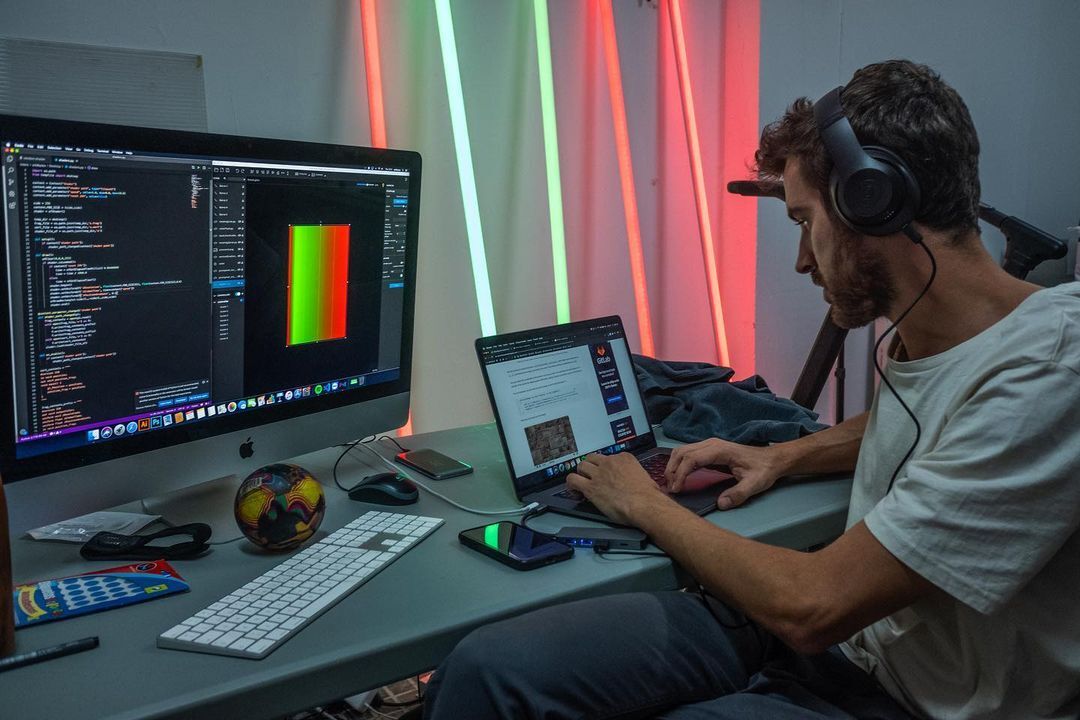 What kind of tools do you use the most?
It depends on the project, but as a creative developer, it's important to be multidisciplinary and use as many software as possible. For websites, we use ReactJS, threeJS and for VR or AR projects, we use Unity.
What part of your work do you enjoy the most?
I enjoy working multidisciplinary and having every project bring new problems to solve, as it keeps me from falling into a routine. Occasionally it feels like a puzzle of solving things of the internet. I also like learning about new technologies, their pros and cons, and applying them to projects.
Sometimes creative coding feels like a puzzle of solving things of the internet.

Jordi Gareta
Can you tell us about a project you worked on that you particularly enjoyed?
I particularly enjoyed working on a VR experience where we connected chatbots using Cognigy.AI, which is the tool we use for creating chatbots. We created a virtual environment where a machine stands in front of you and the chatbot tells you how it works. We used hand tracking with the Oculus Quest 2, as well as text-to-speech and speech-to-text to communicate with the chatbot. The project involved applying several complex new technologies, and the end result was very nice.
Sounds cool. How do you stay focused and productive at work, especially since you work from home sometimes?
I feel comfortable working from home or from the office. For me, one way to stay focused is to listen to music. Of course, it depends on what I need to do. If I need to do some coding, then listening to music or a podcast, but if I need to concentrate on thinking, sometimes noise-cancelling headphones work best.
What role do you believe creative coding will play in shaping the future of technology and UX design?
I think that as a creative technologist, it's important to not just apply technology, but also understand what it means. For example, when applying face recognition technology to a project, there are ethical issues that must be considered, such as obtaining consent from the person being recognized and the use of data. I believe that creative coding will play a crucial role in shaping the future of technology and design by considering these ethical issues when choosing which technologies to apply.
Interesting. What do you think sets think moto apart from others in the industry?
I think that think moto has a strong focus on design quality. We put a lot of effort into creating well-designed results. Additionally, we work on a variety of projects, including websites and VR projects, rather than just focusing on one type of project.
What do you do outside of work to maintain a good work-life balance?
I really enjoy sports like basketball and riding my bike. I also enjoy spending time with friends, drinking, exploring new places, discovering new music and going to concerts. Currently, I'm also going to comedy shows a lot – of course in English because I don't speak German. And also as a creative coder, I like to keep things growing. That is why I sometimes do coding in my free time.
Alright, and do you have any tips for what to do in Berlin?
In winter? I would say go to bars, spend time with friends, drink and enjoy the nightlife in Berlin. Another great plan would be to play board games together. Berlin can be quite lonely in the winter, so try to be as close to your friends as possible.
Muchas gracias, Jordi!
You can learn more about Jordi on his website.