back
Our CCO Katja Wenger on why you should attend design conferences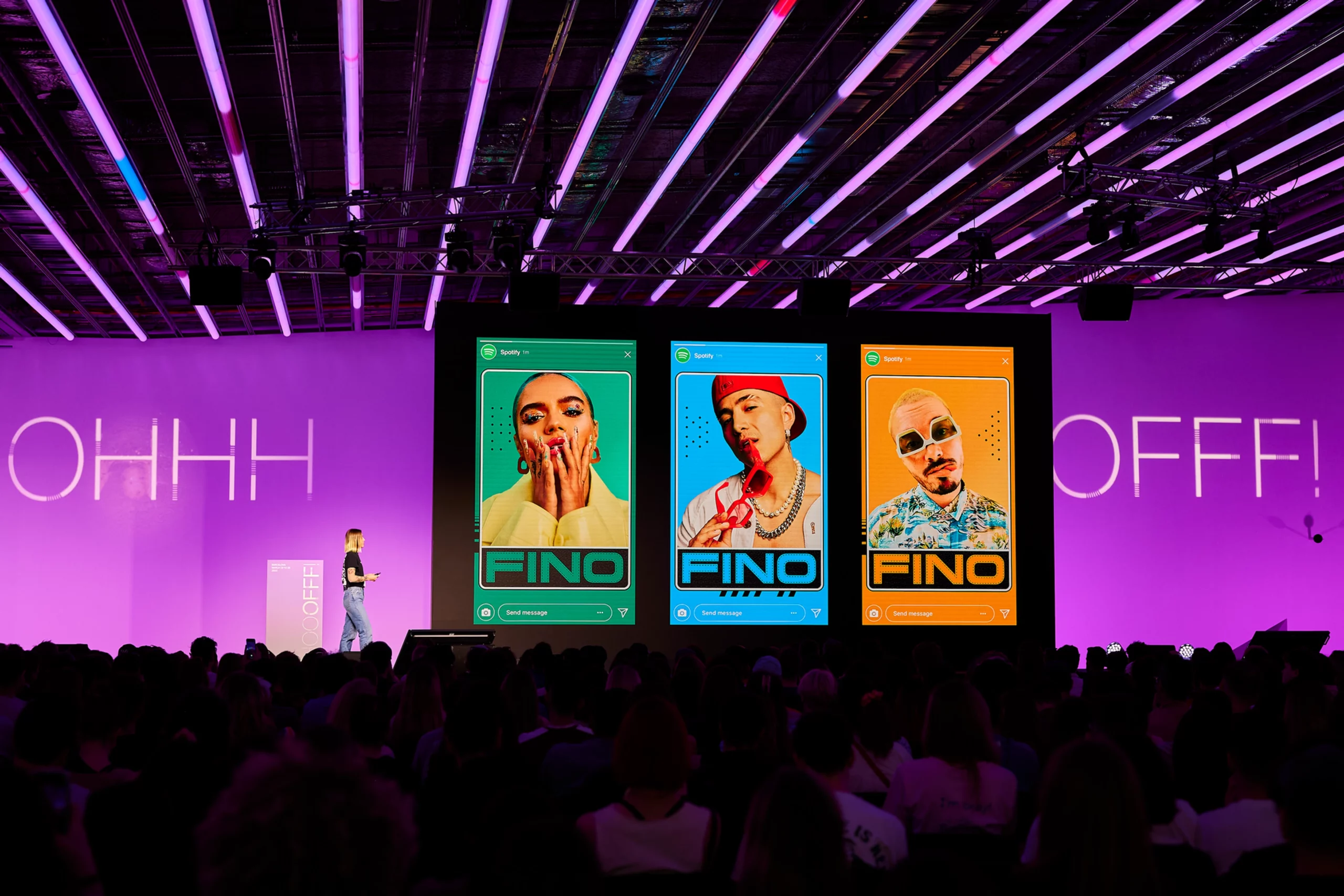 In early May we spoke with Katja Wenger about her experience at this year's OFFF conference which took place from March 23-25 in Barcelonas Disseny Hub. We learned how she came to attend the event relatively spontaneously and what topics and speakers inspired her the most. We also talked about the importance of courage in design, the agency's interest in showing presence at conferences, and what she thinks makes a successful conference. Join us as we gain insights and perspectives from this exciting conversation.

Hi Katja, you attended the OFFF conference in March in Barcelona… How did you come to participate?

I had participated the OFFF several times in the past, but with the pandemic everything came to a halt. In 2022 we went to the Forward Festival in Berlin in September and to the Paradigms Brand Experience Summit in Barcelona. For the latter, we were invited by our partner Frontify, who organized the conference for the first time. It was a great experience itself.

Can you tell us about interesting topics and speakers at the OFFF?

OFFF offers a wide range of international speakers who are incredibly fascinating. There are big names like David Carson, who inspired me very early in my career, as well as smaller or lesser-known talents like the illustrator and artist Kelly Anna.
It provides lots of input from various design disciplines, including motion design, 3D, interaction design, animation, and illustration. That's what makes OFFF and conferences like the Forward Festival so appealing — you get to see different things that inspire you to explore new paths and be creatively productive again.
However, what stuck with me the most was the importance of being courageous in design.

What inspired or intrigued you the most at the conference?

Ultimately, the past six months have witnessed the birth of a new generation of AI, especially in conjunction with visual design. At the conference, we saw the cool possibilities that AI offers for visual designers. However, what stuck with me the most was the importance of being courageous in design. Being courageous means breaking out of the traditional ideals of beauty and daring to do new things. The concept of beauty, as I learned and saw it many years ago, is evolving into something different. For example, there was a presentation by It's Nice That, a website or blog that showcased design trends at OFFF.
Some examples made me cringe because they looked terrible. It seems there's a trend towards such "trashy" aesthetics. Of course, we can't always be so daring when working with established brands. But it's important to break new ground and encourage clients to incorporate some zeitgeist into their brand. Ideally, we have created a brand design framework that makes this possible. As an agency, we are perceived as trendsetters and are asked to provide insights into where the industry is heading.

So, it's important for the agency to have a presence at such conferences?
It's not only in my personal interest to attend these conferences. It's also important for all the designers and also creative technologists who work at think moto. We give them the opportunity to participate in conferences as well. That's very important for me. It's not productive if only I, as the CCO, attend. We can't effectively share the knowledge we've gained, and everyone has their own interests and feelings about different presentations. Everyone takes away something valuable.
I recommend everyone to take part in conferences because they move you forward and allow you to step out of your own bubble and be inspired. There is something very special about listening to a lecture, reading between the lines and hearing the personal stories of the speakers. It's especially inspiring for young designers, because they learn about a designer's career, the effort they put into their work, and how chance led them to where they are now.
As an agency, we also actively participate in conferences ourselves. Sometimes it's about a specific topic. With Branded Interactions, for example, we have been approached several times and have given several presentations at conferences. We've been to the CXI, the largest brand conference in Germany, twice so far, once together with a startup client and once with Volkswagen on the topic of Extended Realities.

Most recently, we presented our Spherical Brand approach at a CX conference in Oslo, a new concept for brand management in the post-growth economy.
I believe it is an opportunity for us to reach out and attract talented people. Being able to showcase our work and agency at these conferences provides an excellent chance to get visibility within the design community

What, in your opinion, makes a good conference or contributes to its success?

Of course, the speakers are key, but it's not just that. The choice of location is also important. Sure, OFFF in Barcelona is super cool and huge, but last year I had the chance to attend Paradigms, which was the very first conference organized by Frontify. That conference impressed me the most. It's hard to put into words. It was an amazing conference, especially considering the location, organization, food, evening events, and the international speakers they managed to bring together for such a small conference. It was just mind-blowing! If anyone ever gets the chance to attend, it's absolutely fantastic! It focused on corporate design, brand management, and brand leadership. Frontify, being a company in that space, had the right tools for it.

Thank you Katja!